Rick L. James, Chairman
Rick is Chairman of the Board of Directors for The James Foundation.  He is a graduate of Tri-State University (1977), today known as Trine University where Rick is the Chair of the Board of Trustees.  Guided by his faith, Rick, and his wife Vicki, started The James Foundation in 2011 to serve his community and enhance educational opportunities through grants.   Rick remains involved with Metal Technologies, Inc. as the Chairman, and is involved in various other community organizations.  
Vicki L. James, President
Vicki is the President of The James Foundation.  She, and her husband Rick, forged The James Foundation guided by faith, love of community, and passion for education.  Vicki leads her family and friends by example through her philanthropic dedications to various organizations and her church.  She is excited by the opportunity to share her and her family's blessings with others.
Stephanie A. Foote, Vice-President
Stephanie is the Vice President of The James Foundation.  She is a graduate of Indiana University Purdue University Fort Wayne with a Bachelor's Degree in Elementary Education and minor in Mild Disability Education.  She serves as a member of the Board of Trustees for the Auburn Cord Duesenberg Automobile Museum, as well as on the Zoobiliee Committee for the Fort Wayne Children's Zoo.  She is an active member of her church and has a passion for serving others, especially advocating for women's and children's causes.  Stephanie enjoys reading, photography, and travelling.  She is excited about being involved in her family's foundation and feels it a blessing to be able to affect her community and individuals as well as create a lasting legacy.
Matthew Fetter
Matt is the President and CEO of Metal Technologies, Inc. He is a graduate of Indiana University (B.S.), University of Limburg (International Business Studies), and University of Toledo (MBA). Matthew serves on the boards of Metal Technologies, Inc., and various others throughout the community. Matthew also serves on the board of The James Foundation as a family member.
Jessica Buss
Jessica is a stay at home mom.  She is active in the classrooms of her children.  She is excited to be serving her community and faith through her work at the family's foundation.  Jessica serves on The James Foundation Board of Directors as a family member.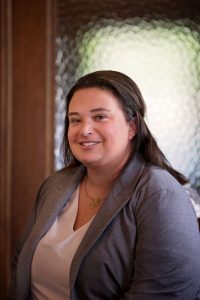 Kendra R. Klink
Kendra serves as the Executive Director of The James Foundation.  She is a graduate of Saint Mary's College (B.A. International Business and Marketing); Indiana University Lilly School of Philanthropy (Master of Arts, Philanthropic Studies); Valparaiso University School of Law (Juris Doctorate); and constantly taking a class or learning a new skill. Kendra has dedicated herself and her career to the wonderful world of non-profit work. She feels blessed to be a small part of the great work happening in Northeast Indiana that is creating great change bettering and serving the community. She serves on various boards and committees in the region. Kendra's favorite "job" however, is being an aunt to her nieces and nephew, all of whom are her favorite people.     
Brandon J. Park
Special Projects Manager
bpark@thejamesfoundation.org  
The James Foundation, Inc.
112 South Cedar Street
P.O. Box 606
Auburn, Indiana 46706
Phone: (260) 333-7500
www.thejamesfoundation.org